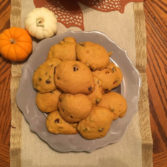 Pumpkin Chocolate Chip Cookies (dairy-free, nut-free, eggless)
It's that time of year for all things fall…candles, blankets, scarves, and all things pumpkin. While I may not enjoy my fall season sipping on a pumpkin spice latte (no dairy for me!), I will, however, be baking batches and batches of pumpkin chocolate chip cookies. Just around the end of August and beginning of September (when it's still way too hot to turn on the oven) my husband and youngest brother will start asking for these cookies.
I found the recipe a few years ago and simply altered it to make it dairy-free and nut-free. I have also made this recipe without eggs (and will include the egg substitute in the recipe) for my younger brother, Henry, who is also allergic to eggs.
I was a little skeptical the first time I made these cookies, as I LOVE chocolate, and I love pumpkin, but knew that both brought some pretty rich flavors. However, I was pleasantly surprised at how well these flavors work together!
These cookies have been gobbled up at numerous Thanksgiving dinners, fall days at work, and fresh out of the oven at home. I'm happy to now share the recipe with you!
---
Pumpkin Chocolate Chip Cookies
(eggless, nut-free, and dairy-free)
Ingredients
1 cup canned pumpkin
1 cup white sugar
1/2 cup vegetable oil
1 egg (or substitute 1 tsp baking powder + 1 1/2 T water + 1 1/2 T oil)
2 cups flour
2 tsp. baking powder
2 tsp. ground cinnamon
1/2 tsp. salt
1 tsp. baking soda
1 tsp. soy milk (or other non-dairy milk)
1 T of vanilla
2 cups chocolate chips
Instructions
1
Preheat oven to 350 degrees.
2
Mix pumpkin, sugar, vegetable oil, and egg (or egg substitute) together.
3
Stir in flour, baking powder, salt, and cinnamon.
4
Mix soy milk and baking soda together and add to mixing bowl. Add vanilla.
5
Stir in chocolate chips.
6
On a greased cookie sheet, place large spoonfuls of cookie dough.
7
Place in oven. Bake for 10-12 minutes.
8
Let the cookie sheet cool on wire rack for five to ten minutes, then enjoy!
Caitlin Reiter