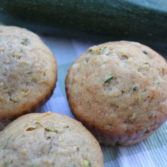 Vegan Zucchini Muffins
I am excited to share with you a simple recipe for allergy-friendly vegan zucchini muffins. This recipe was not perfected by me, but by my mom. I am very grateful to her for working and adapting this recipe for eggless zucchini muffins, and now I am happy to share it with you!
This recipe is egg-free, dairy-free, and nut-free, but you honestly wouldn't know it when you taste it. I recently made this recipe with eggs (instead of the egg replacement) and found that it actually tastes better and is moister when made with the egg replacement. That was a pleasant surprise!
I also love this recipe because the muffins are not overly sweet, and they have a decent amount of zucchini in them, so I don't feel guilty when Owen asks for a second muffin!
If you don't want to make muffins, this recipe makes 2 loaves of zucchini bread – bake for 55 minutes if you are baking loaves instead of muffins.
Please leave a comment or review below if you do make this recipe. I'd love to hear your feedback!
Ingredients
3 cups flour
1/2 tsp. baking powder
1 tsp. salt
2 tsp. cinnamon
1 tsp. baking soda
2 cups grated zucchini (about 3 medium-size zucchinis)
4 1/2 T. water, 4 1/2 T. oil, 3 tsp. baking powder; mixed together (this is the egg substitute)
1/2 cup oil
3 tsp. vanilla
1 cup sugar
Instructions
1
Preheat oven to 350 degrees.
2
Sift together the first 5 ingredients.
3
Add the remaining ingredients and mix together.
4
Pour batter into greased or lined muffin tins (about 2/3 full).
Caitlin Reiter