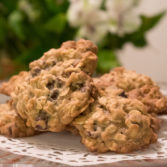 Oatmeal Chocolate Chip Cranberry Cookies
While I love baking the classic chocolate chip cookie, I enjoy changing things up a bit and adding in different ingredients. This recipe for oatmeal chocolate chip cranberry cookies is nut-free, dairy-free, and also has an egg-free option. I have included what I believe to be the most successful egg substitute in the recipe, which should translate well for those of you with egg allergies! 
This recipe is inspired by one of my closest friends, Megan, who I met my freshman year of high school.
I sat in honors geometry with her, and would watch as the teacher gave her extra points on tests and quizzes because she would always put a Chuck Norris joke at the end.
Needless to say, she is amazing, and hilarious. She also introduced me to the greatest TV show ever – The Office, so I am forever in her debt.
Megan used to talk about her favorite cookie recipe – oatmeal white chocolate chip craisin (I can still hear her say it in my head). I made these cookies for her one day and brought them to school, and of course, she was thrilled. I did however, have to change one thing after I made those cookies. I am NOT a fan of white chocolate (while some may disagree, I believe that white chocolate is not actually chocolate, just a gross paste). This led me to perfect the cookie by switching white chocolate chips to semi-sweet chocolate chips. Now that it's perfected, I hope you enjoy the recipe!
Oatmeal Chocolate Chip Cranberry Cookies
(nut-free, dairy-free, and egg-free option)
Ingredients
1/2 cup dairy-free margarine
1 cup brown sugar
1/4 cup granulated sugar
2 eggs (or substitute 1 tsp. baking powder + 1 1/2 T water + 1 1/2 T oil per egg)
2 tsp. vanilla extract
1 1/2 cups all-purpose flour
1 tsp. baking soda
1/2 tsp. salt
1/2 tsp. cinnamon
3 cups rolled oats
1 cup semi-sweet chocolate chips
1/2 cup dried cranberries
Instructions
1
Preheat oven to 350 degrees.
2
Line cookie sheet with parchment paper.
3
Mix margarine, brown sugar, sugar in a bowl.
4
Slowly mix in each egg (or egg substitute), one at a time. Add vanilla.
5
In separate bowl, combine flour, baking soda, salt, cinnamon, and oats. Combine with sugar and egg mixture.
6
Drop by teaspoons on cookie sheet. Bake for 12-15 minutes (check to see that the edges are golden brown).
7
Let cookies cool, then enjoy!
Caitlin Reiter